Construction is a risky job that demands experience and expertise. When it comes to scaffolding standards, safety while working at height is of utmost concern.
Two-thirds of construction workers use scaffolding at some point in their work. Unfortunately, many incidents involve severe injuries like spinal cord injuries, including paralysis and fatalities. 
These accidents are preventable, and it is necessary to be completely aware of the safety measures and implement them to minimize the hazards at construction sites. Hence, it is required to get acquainted with the scaffolding standards.
The basic standard is the installation guidelines for fall arrest barriers above 10 feet. For Scaffolds with single or two-point suspension, the thickness of scaffolds must be about 48 inches. Similarly, the cross points at the top rail must be about 48 inches above the working platform, and when used as mid rail, it must be about 30 inches above the working Platform. If and when the cross point of cross bracing is used at the top rail, it must be between 38-48 inches above the working platform.
Support must be level, and base plates and mud sills must bear the frames, legs, poles, and uprights. It must also be decked or planked. If the height/base ratio is more than 4:1, it must prevent tipping. Scaffolding must bear 4x the intended load, and Suspension scaffold rigging must be capable of at least 6x the calculated load.
While erecting or dismantling scaffolds, a competent person must determine the feasibility of providing a safe means of access. A qualified person must check for fall protection for all the operations and maintain them regularly for visual defects which can harm the structural integrity. All employees working at 10 feet and above should be protected from falls by guardrails, and those working on single-point and two-point adjustable suspension scaffolds should secure themselves with a barrier and a personal fall arrest system. 
Installing mid rails approximately halfway between the top rail and the platform surface is a must. Also, when you use a crosspoint of cross bracing as a mid-rail, it must be between 20-30 inches above the working platform.
Whether a small-scale project at your residence or a large project like a commercial building, you need a team of fully trained staff with the right equipment for the job.
Rules for Scaffolding 
Following these will ensure peace of mind and help you deliver the project on time and to the required standard or budget:
Proper use of safety equipment – personal protective equipment, or PPE, is crucial for employees working in construction settings. Injuries related to scaffolding involve head injuries because of falling objects. Workers must wear a hard, safety helmet that can prevent severe injuries at the site. They must also be equipped with non-slippery footwear and fall arrest equipment while working at heights.
 2. Take note of load limits – materials involved with scaffolding have specific load-bearing capacities. It is very important to choose materials and components that are capable and sufficient for the type of load that is used in the work. Else, it can subject the employees to severe risk environments, which may involve platforms breaking and collapsing entirely, resulting in severe injuries or fatalities.
 3. Pay attention to relevant regulations & standards that vary from state to state, and it is vital to know the local laws of the area to which the construction site belongs. So that the scaffolding platform placed complies with the rules and regulatory standards of that particular state/city/area. This not only prevents or minimizes accidents but also avoids liability for failing to meet safety standards.
4. Train the employees and construction site workers to work meticulously with the type of scaffolds and materials used and make them recognize the risk associated with the same. Mismatching the parts with each other poses many dangers and hazards that can lead to structural failure. Those who climb the scaffolds must exercise regularly, have a true knack for climbing scaffolds, and use appropriate safety techniques while doing the same. They must always have a 3-point contact (one hand and two feet or two hands and one foot) with the structure at all times. Fall arrest is a must. Avoid cross braces for climbing as they do not support the weight.
5. Inspect materials involved with scaffolding before setting up the work platform for construction. Ensuring no damage or defect in the materials used contributes to the structural integrity of the scaffolds. 
6. Not taking shortcuts, creating a different design, and not following the instructions and specifications provided by the manufacturers can cost a lot and may result in fatalities.
7. Inspecting & ensuring that the area used to build a scaffold is sound and not accident-prone is essential. Choosing a level ground to create a scaffold works best. 
8.Avoid intersecting with the power lines. Taking note of power lines on the way up for building a scaffold is very important. 
9. After erecting the scaffold, inspect the site every day before the work starts for hazards and defects in the structure, which can otherwise cause problems if it goes unnoticed.
Besides these rules, there are crucial things like not letting heavy vehicles or equipment linger at the base of the scaffold because there is a chance of the whole structure toppling. Take necessary measures to set up barriers and only allow equipment with good clearance. Put away all the used equipment after use. It helps keep the site organized and ensures no material is left unattended on the working platform, which can otherwise lead to trips and falls. Do not forget to consider the weather. Making sure the weather conditions are favorable for working at height can reduce the risk of injuries due to harsh weather. Take note of wind velocity, rains, and storms that can create damage to the scaffold and the people working on it.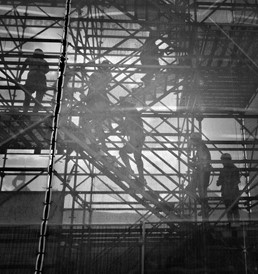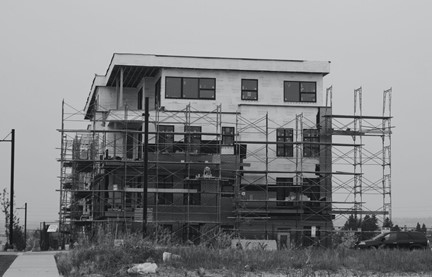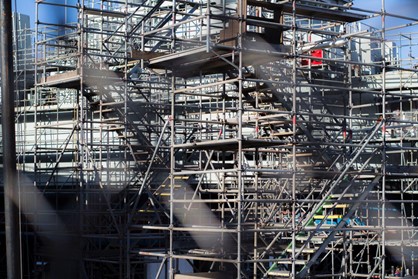 Additional tip: Always be licensed to do the job and work with fully licensed people as the process of getting certified or licensed involves training, education, and examination. 
If you need help with scaffolding, we'd be able to recommend just the right scaffold for your projects. 
At Credence Constructions, we have a well-equipped and experienced team to give you expert advice at various stages of your construction project. Also, we are here to save you great stress and losses, which is why thousands of customers bank on us for scaffolding services.
Connect with us at 306-786-7000 to discuss this further, or fill out the form on this page https://credencegroup.ca/contact.